Thinking about picking up the ukulele? You're certainly not alone! The ukulele, by all accounts, is one of the hottest instruments out there right now. But before you head to your local music store or hop on ebay to pick out your first...there's a few things that you should know.
When I was 15, I spotted a ukulele at the local music shop. All I knew at the time is that I WANTED one! It was made by Samick...and while I don't remember the name or model, I do
remember how stupid I felt when I finally moved up to a decent Lanikai. While that first uke will always hold a special place in my heart since it was the first one I played, it was not the one that I would have chosen to learn with if I would have known then what I know now. Don't make the same mistake that I made! It's my hope that my two cents here will help you pick a good first ukulele to start your adventure with!
There are four basic types of ukuleles: soprano, concert (or alto), tenor, and baritone. Here's the rough specs on each of these....
SOPRANO
Length:
21″
Tuning:
GCEA, ADF#B
Number of frets:
12-15
CONCERT
Length:
23″
Tuning:
GCEA
Number of frets:
15-20

TENOR
Length:
2
6″
Tuning:
GCEA, DGBE
Number of frets:
15+
BARITONE
Length:
30″+
Tuning:
DGBE
Number of frets:
19+
If you're a beginner, I'd STRONGLY recommend crossing the Tenor and Baritone ukuleles off your list and focusing on either a soprano or a concert. While the Tenor and Baritone ukes fit their purposes well, the odds are that these won't work well for a beginner. The main reason that I shew you away from these is the sound. The Tenor and Baritone are both geared for a richer, fuller, and deeper sound. The typical jangly ukulele sound that you're most likely searching for will not be present in these two options.
That being said, we'll focus in on the Soprano and Concert size ukuleles. Two of the best beginner ukuleles are made by
Lanikai
and
Kala
. Before we get into models and price range, it's best to determine what kind of a beginner ukulele player you are. What I mean is, are you someone who has never touched a stringed instrument in your life? Or...are you a guitar, mandolin, banjo, or bass player? There is something to consider here...
The first instrument I picked up was a guitar. I played on that for 4 years before moving into the realm of ukuleles. In fact, a lot of guitar players (as well as other stringed instrument pluckers) are transitioning into the ukulele. If that description fits you, go for a Concert ukulele! While there is still some playing adjustments that you'll have to get used to, there's more room on the fretboard for ya, and you'll welcome that if you're fingers are used to bigger fret spacings. I still have trouble playing on Soprano ukuleles for this very reason. A Concert uke also has greater tension on the strings, so it won't be as easy to accidentally bend a note out of tune. Of course, if budget is a big concern to you, the Concert size might be less appealing because the price tag is a bit heftier. Staying with Lanikai and Kala, two good beginner Concert ukuleles are the
Lanikai LU-21c
and the
Kala KA-C
. Both of these can be had for right around the $100 mark.
If you've never touched a stringed instrument in your life, then a Soprano ukulele is right up your alley. If you have small fingers (or if you're buying your child his or her first uke), this is the one you want to go with. The
Lanikai LU-21
Soprano or the
Kala KA-S
are good beginner options. A Soprano size ukulele carries a cheaper price tag than it's big brothers. Both of these models can be found in the $50-$75 price range.
I hope that this information will benefit you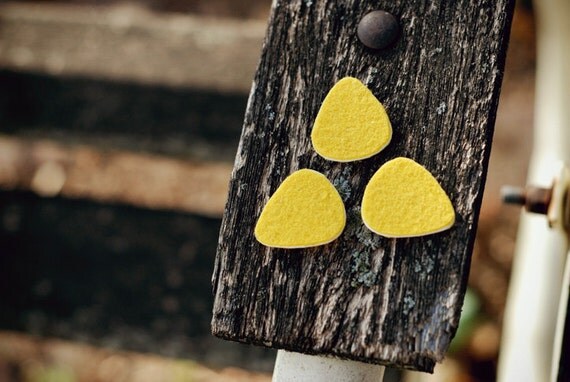 as you go shoppin' for your first uke! And of course, a little shameless self-promotion here to top it off. If you're looking for some good ukulele felt picks to start your playing experience with, I encourage you to pick some up (no pun intended) at the
UKEonomics shop
.