The first time I saw someone playing a "mini" ukulele, I knew I had to have one! Maybe you've seen one or played one and felt the same way. By almost all accounts, these are novelty ukes...but I use that term loosely. They do have a very different and distinct sound. The cute factor probably puts them in the novelty category more than anything.
There are a few different companies making these right now, so which one should you get? Here's a quick rundown of some of these mini ukuleles with price points...starting with the most expensive....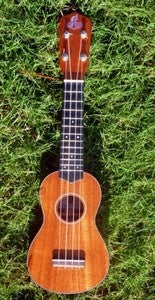 beautiful mahogany!
LoPrinzi Bambino - $400-$500 (depending on the wood)
A sweet little player! To the left you see the solid mahogany, but there are some customizing options with these little guys (Koa, Cherry, Cherry w/ Spruce top). It also comes with a bone nut and saddle and an ebony fingerboard.
Some folks will have trouble shelling out $400-$500 for a "novelty" uke, but if you've got the cash, go for it!
Here's the mahogany model
at Uke Republic
.
the acacia pocket uke
Kala Pocket Ukulele - $200ish-$300ish (depending on the wood)
Kala did showcase an even smaller pocket ukulele at NAMM 2013, but you can't get your mits on it just yet. Here's their original mini ukulele offering. In addition to Acacia, you can also get one in solid Spruce/Flame Maple and Mahogany.
These are a pretty hot commodity and as I'm writing this I'm having trouble finding an online retailer that has all three woods available.
Kala is a very trusted ukulele brand and the price is very nice for a solid wood. You can pick up the Spruce/Flame version
here at Instrumental Savings
.
Ohana Sopranino - $150ish
Ohana's mini soprano features solid mahogany back, sides, and top and a bone nut and saddle. It also comes with an awesome price tag! For those of you who love mahogany, look no further!
Brindley's Music Center has is on sale here
for a little less than $150.

Tom Pocket Ukulele - $70ish
I started seeing a few these pop up on Ebay awhile back. They are apparently made in China and there isn't a wealth of information available on these. I did find
this favorable review
from a Ukulele Underground member. Here's a link to a
thread from Ukulele Underground
with a few people discussing their thoughts on this specific mini uke.
It's definitely the cheapest mini ukulele that I've seen. If you're willing to take a gamble on this and don't expect much from a mini ukulele anyway, why not go for it?
Here it is on Ebay
.
So which one should you choose? Great minds think for themselves! Pick whichever one you want! As for me...while the Bambino's are tempting and I have no doubt that the craftsmanship is impeccable, I just can't justify dishing out that kind of cash for one. The Tom Pocket Uke on ebay just seems a little too good to be true...I would guess that for the price, the build quality is pretty terrible.
So for me it comes down to the Kala Pocket Ukulele and the Ohana Sopranino. It's a tough call. I like both, but being a big mahogany fan, I think I'd go with the Ohana and the cheaper price tag.
So what do you think? Which one's your favorite?