Numerous studies have shown that kids who are exposed to music in an interactive way (music lessons, tinkering with mom or dad's instruments, etc) have boosted IQ's. I'm a big proponent of getting instruments in your children's hands at an early age and the ukulele is a great place to start! The chief reason being that the ukulele is small and can fit into those little hands. Not to mention, it's a fun instrument!
Sounds good so far, right? But wait a minute...every parent knows that anything they put in their child's hands is at great risk of being destroyed. So what's a good (and cheap) starter ukulele for a young child? Here's some inexpensive and durable options....
A solid uke for a youngster coming in at the $30 mark.
A very respected beginner ukulele. Many players got their start on one of these Dolphins. You can find one for just above $40.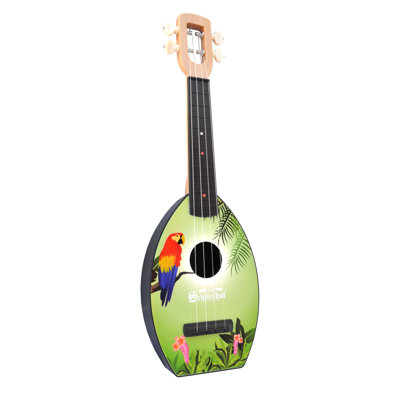 Schoenhut...yep, that's the same name that was on your toy piano when you were a kid. They still make those toy pianos, by the way. They've also started making some other kid-friendly starter instruments like this Parrot Ukulele. They've caught a little grief for their shamless copy of the Flea (as you can clearly see). While I'm not a big fan of stealing someone's ideas and work, it's awfully hard to pass this up. You can find one in the $30-$50 range.
Hope one of these ukes will make your child very happy! On a side note, you might think about investing a few dollars in some ear plugs. :)